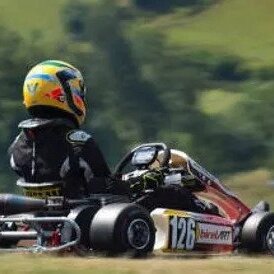 William, 15, elite level go-kart racer
A complete rupture of William's ACL ligament, caused by a ski accident threatened William's continued competition in the sport he loves.
William, aged 15, is an elite level go-kart racer. In April 2018, he was skiing in Austria when he knew he'd done something serious to his knee. He was taken to a local clinic where he had an MRI scan, however the onsite doctor told William and his dad that there was nothing seriously wrong with his knee, he just needed to have physiotherapy once he got back to the UK.
Once home, his mum, Kerry was concerned and so took William to their local GP, who referred William to Mr Paul Trikha at Surrey Orthopaedic Clinic.
On looking at William's MRI scan, Mr Trikha identified immediately that William's anterior cruciate ligament (ACL) wasn't intact. This was devastating news as William was about to start the go-karting race season.
William was keen to get his knee fixed as soon as possible, in order to get back to racing that season.
​Kerry, William's mum explains: "We were understandably nervous that our son needed such a big operation, however from the moment we met Mr Trikha, we knew that we were in safe hands. There were no set backs at any point during William's treatment and he went from strength to strength post the operation."
Mr Trikha undertook an ACL reconstruction, using part of William's hamstring to reconstruct William's ACL.
William's recovery was so rapid that he was able to get back to racing only 2 months after the operation, and was not only competing, but winning races. Kerry says: "William was heartbroken when he thought he may not get back into his go-kart for many months, however the whole process was amazing and completely exceeded our expectations." She continues: "Not only is Mr Trikha a skilled surgeon, but he supported William throughout the process, helping William believe he could get back to his sport and aim to be the best in his age group."
​William is about to start the 2019 season in a few months, racing in the Daniel Ricciardo Series, with a view to moving up to single seat racing cars the year after. Kerry concludes: "Without William having his knee fixed, and the amazing care we received from Mr Trikha from start to finish, he wouldn't be in this strong position going into this important year for him. Thanks to Mr Trikha and his team for all they have done for William."
​Mr Trikha comments: "William is a lovely lad and has done so well after his ACL reconstruction. He and his family have worked hard on William's rehabilitation after his operation to get him back to racing. I wish him all the best with the forthcoming season and the next stages of his racing career. Well done William!"
February 2019