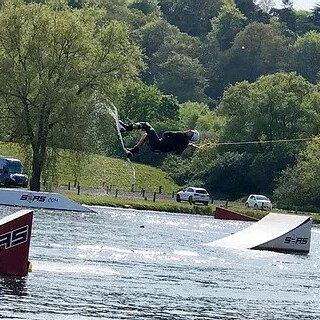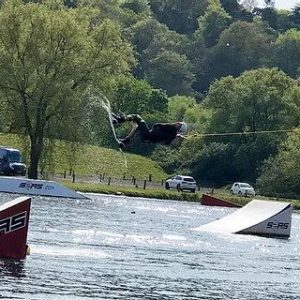 David, wakeboarder
A complete rupture of his ACL ligament and meniscal damage to his left knee threatened David's participation in sport. He wanted to return safely to the action.
In May 2018, 25-year-old Pepsi employee David completely ruptured his anterior cruciate ligament (ACL) and damaged the meniscal cartilages (the knee's shock absorbers) in his left knee during a wakeboarding competition. As a keen footballer and skier in addition to his passion for wakeboarding, David needed to find out what was wrong with his knee. After inconclusive visits to A & E and his own doctor, his mother's research led him to Mr Paul Trikha, consultant knee surgeon at the Surrey Orthopaedic Clinic.
​Mr Trikha explained to David that, in his opinion, the best option was to repair his medial meniscus and a perform an ACL reconstruction. These procedures went smoothly and David began his rehabilitation using a brace and physiotherapy.
Six months on, David has a stable knee and a full range of movement and whilst he is not 100% recovered, he is starting to think about participating in sport again. David advises anyone in a similar position to him to have the surgery, follow the advice of doctors and work hard with rehab. "It's not a comfortable experience but you have to push yourself at all stages of recovery to give yourself the best chance of a full recovery. Find ways to enjoy your physio. Go on bike rides with good scenery."
After both A&E and his own doctor were unable to diagnose the issue, David was relieved when Mr Trikha could immediately pinpoint his problem. He says: "As soon as I saw Mr Trikha, he was 99% certain that I'd ruptured my ACL and when the scan came back and confirmed it, I was full of confidence that he knew what he was doing. I was booked in for surgery within that week. I was super-nervous, but everybody was so reassuring. "
Post-surgery, David gives great credit to both Mr Trikha and his physiotherapist, Gill Newey: "If this ever happened to me again, I would be reassured that in the hands of Mr Trikha and my physio Gill Newey, I could make a full and speedy recovery."
Mr Trikha concludes: "Wakeboarding is a great but precarious sport – as up to 50% of participants damage their ACL at some point, so much so that many of them wear a knee brace when taking part. I'm delighted that David has recovered so well, thanks to his dedication to his rehabilitation and recovery."
January 2019