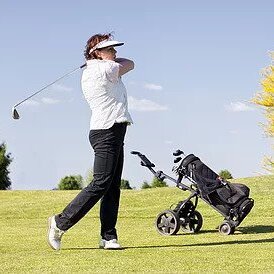 Zdena, physiotherapist and keen golfer
A sudden onset of pain when playing golf made Zdena seek out a long-term solution to her hip condition.
A strain caused by pulling a golf trolley resulted in Chartered Physiotherapist Zdena to suffer pain in her left groin, hip, buttock, knee and to walk with a limp. The pain came on suddenly, making walking, weight-bearing and playing golf painful. Her condition deteriorated rapidly and started to disturb her sleep. It was while talking to a work colleague about her problem that Dean Michael was recommended to her.
Zdena says of her initial appointment: "I was impressed by Mr Michael's kind manner and professional approach in dealing with my condition. He showed me my X-ray which I had prior to my appointment and discussed thoroughly my symptoms and options."
On examining her X-rays, Mr Michael noted 'severe arthritic change' in Zdena's left hip. They discussed the alternatives, such as activity modification, painkillers and cortisone injections. Zdena continues: "Mr Michael did not recommend surgery straight away, but explained clearly the pros and cons of an injection prior to having surgery. He left the decision to me, not influencing me in any way, other than to let me know the possible consequences of my decision."
It was agreed that the best long-term solution would be for Zdena to have a total hip replacement. Mr Michael outlined what this procedure would involve in detail and what to expect post-operatively during recovery.
Zdena's hoped-for outcome was to be pain-free, with normal joint mobility, and to be fully functional for work as a physiotherapist and be able to return to playing sport. Happily, all her expectations have been met: she has recovered well, can now walk without pain, is back at work and gradually returning to golf. Her advice to patients with similar problems is to address the problem sooner rather than later as this will result in a smoother, faster recovery.
She summarises: "Mr Michael was thorough in his examination and I was impressed by his knowledge and expertise. I have made an excellent recovery and would have no hesitation in recommending Mr Dean Michael to my patients and colleagues."
​Mr Michael concludes: "It's always nice to treat other healthcare professionals, in Zdena's case a physiotherapist. I'm so pleased she has recovered so well from her hip replacement, which we both felt was the right option for her. I'm so glad she's getting back to golf, albeit slowly, which is only sensible."
May 2019