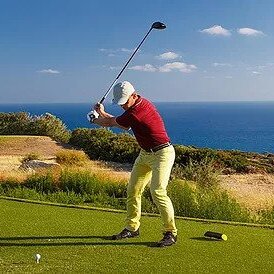 Nick, frozen shoulder
Nick's shoulder condition was causing him pain and preventing from carrying out everyday tasks when he sought treatment.
Nick was suffering with a frozen shoulder which was a result of him having type 1 diabetes which he has had for over 37 years and is a common symptom of the condition. He was experiencing a high level of pain when undertaking simple tasks which involved his upper arm and right shoulder. He also only had around 20% capacity in his right arm, which meant he could only carry out a very restricted range of movements. Raising his arm above his head and behind his back were particularly difficult, as was lifting himself off the ground when exercising. This was affecting Nick's everyday life and simple issues such as getting dressed or stretching for objects. He also had constant lower back pain due to him compensating for the restrictions in his shoulder.
Nick went to see his GP who did some simple checks and tests and he then referred him to see a specialist. Nick contacted his private health provider and chose Mr Polyzois based on his sister-in-law's positive feedback. She had seen Mr Polyzois a few months earlier and had given him a great reference.
At their first appointment, Mr Polyzois reviewed Nick's shoulder. The global loss of range of motion in all directions especially in rotations, external and internal rotation was clear.
As Nick had been suffering from his diabetic frozen shoulder for the past two to three years, Mr Polyzois felt the only sensible option was an extensor arthroscopic capsular release to Nick's shoulder and then manipulation under general anaesthetic and a steroid injection followed by a thorough shoulder decompression and ACJ resection arthroplasty.
Nick had had a similar operation on his left shoulder (based on the same symptoms) 7 years earlier so he hoped to see the same dramatic improvement.
Mr Polyzois advised Nick to remove the sling as soon as possible after the operation once the anaesthetic had worn off and to participate in as full a range of motions as pain allowed with his physiotherapist.
Nick felt an almost immediate relief, as he explains: "After 24 hrs of the operation I had 80% – 85% capacity back in my shoulder and upper arm which was a great relief! Also, my back pain had gone."
After 2 weeks, Nick had a follow-up appointment with Mr Polyzois, who summarised: "Nick has done really well indeed with a good range of motion on clinical examination today and he is progressing very well. His wounds have healed well. I look forward to seeing him in two weeks to assess his progress clinically, but things are progressing in the right direction. He is delighted with the surgery and results and I am sure he will have an uneventful recovery."
Nick is delighted with what he can now do: "All things such as stretching or leaning for things/objects, as well as putting my hands behind my head or back!! Simple things but very frustrating if you are not able to do them. I am able to play sports such as tennis and golf again with confidence."
He has the following advice for other patients with a similar condition: "Get the issue seen to as early as possible to avoid the prolonged physiotherapy which I am now having to experience (I waited 4-5 years before operation); follow the physio to the letter and apply the exercises religiously; use the affected arm and shoulder as much as you can to assist getting it back to normal; don't be afraid to ask questions to your consultant – he is/was very happy to assist."
July 2019