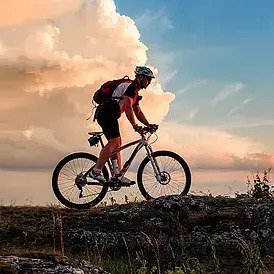 A history of knee problems and previous operations left Gavin in significant pain and unable to enjoy his active lifestyle
Gavin's right knee problems started in about 2004, when, following a fall, he twisted his knee whilst running cross country. Over the following years he underwent two arthroscopies and numerous steroid injections, medication and physiotherapy. The condition slowly worsened to the point where he could no longer run, swim or walk very far without being in significant pain. At this stage he was waking up throughout the night in significant pain. He described the pain as: "Like toothache in his knee."
The final straw occurred during August bank Holiday 2018, when cycling in Wiltshire, Gavin developed the most acute pain imaginable: "like a knife going through my knee." By this time, cycling was the only exercise activity he could still do, apart from some activity at the gym. He says: "I was a passionate cyclist, cycling 100-150 miles per week and now I could not even cycle 10 miles without experiencing pain."
​The pain in his knee had a significant impact on Gavin's lifestyle. He had always been a keep fit, outdoor enthusiast, who enjoyed running, swimming, potholing, climbing, mountain walking and cycling. So when even his cycling was impacted, he knew he needed something drastic to be done and thought perhaps a knee replacement would be an option. He was depressed and very low and just wanted the pain to go away.
Gavin was referred to Paul Trikha by his GP. After a number of scans, Mr Trikha explained to Gavin that he had marked degeneration on the inner aspect of his knee with a complete loss of surface cartilage resulting in areas of exposed bone.
Mr Trikha informed Gavin that although he was too young for a knee replacement, a knee osteotomy offered an alternative, which would allow Gavin to keep his own knee. He explained that whilst it was a serious operation, with a potential long recovery period, it would allow Gavin to be pain free longer term so he could start cycling to get fit again.
​Gavin says: "At this stage all I wanted was to be pain free and to be able to sleep through the night without the aid of prescribed drugs."
​The osteotomy went ahead and Gavin appreciated the final frank pep talk from Mr Trikha on the morning of the operation, reminding him of the seriousness of the operation and checking he was prepared for the long road back to fitness.
Gavin experienced serious pain immediately after the operation, however, things started to improve: "There were still lots of difficult days, but I stuck religiously to a strengthening and stretching routine and as the weeks went by the pain began to subside."
​5 months on from the procedure and Gavin making good progress: "I am now back to cycling 100 miles per week, swimming once a week, working out in the gym every day and going for a weekly ramble over the local heathland pretty much pain free." He continues: "My next task is to try a short run!"
​Gavin's advice for anyone contemplating this operation is: "Be prepared for the significant pain you will have to endure post operation. Make sure you stick to the stretching and exercise routine you are provided with. Stay positive, and remember there is light at the end of the tunnel and although you will not be perfect you will be able to return to the lifestyle you enjoyed before your knee problems occurred."
​He summarises "It has been quite a journey, a difficult and painful journey, but I am definitely on the home straight now. The care I have received has been good and the results from the surgery have enabled me – for a while longer yet – to continue to enjoy the active lifestyle I had before my troubles began. I would like to thank Mr Trikha and his team for all their care, skill, expertise and support."
Mr Trikha concludes: "Gavin has been through a real journey with his knee problems. An osteotomy, where we realign the knee to take pressure off the damaged part of his knee, is a serious procedure, however it allows patients to keep their own joint. In young, active patients such as Gavin, this offers them a good alternative and I'm pleased Gavin was able to benefit from this option. I'm delighted he's back to his cycling and on the way to enjoying his other active pursuits."
June 2019