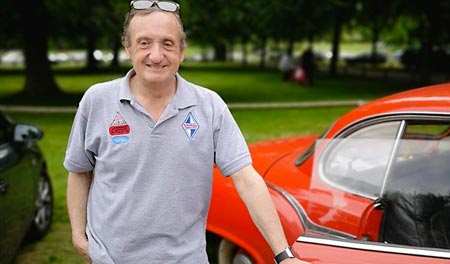 John, 62, retired electrical engineer
John had been in pain and limping for many years when he sought treatment for his knees
John, a retired electrical engineer, had been having problems with both his knees for a number of years. He had been advised that he had arthritis, caused by Crohn's disease, and was given anti-inflammatory tablets. He had been hobbling on and off for the previous 10-15 years, but the pain was now interfering with his day to day activities and was waking him at night.
​In November 2018 the pain was so bad in John's right knee that he could hardly walk and had to sit down whenever possible.
​At the beginning of December 2018, John and his wife were away on holiday and he was unable to do very much. John's frustration at his knee pain had become so great that he took matters into his own hands as he explains: "I Googled "knee problems" and then phoned the Nuffield Woking hospital who arranged an appointment with Mr Paul Trikha the following day, just before Christmas."
​After examinations and X-rays Mr Trikha confirmed that John had severe bone on bone tri-compartmental degeneration caused by arthritis, with extremely poor patellofemoral joints (where the patella (kneecap) and femur (thigh bone) meet at the front of the knee). He felt a knee replacement would be a viable and sensible option for John.
​Mr Trikha took John and his wife through the implications and recovery for this type of surgery and they agreed to go ahead. John was hoping to be able to walk again and do all the thing he has done in the past, pain free, such as fixing his classic cars.
​The operation was carried out on 15th January 2019. Two weeks following the total knee replacement at their follow up appointment, Mr Trikha explains John's progress: "he is doing amazing. He walked in with no crutches, no sticks, a well healed wound, a bit of puffiness obviously. He is over the moon. He has full extension. He has over 105 degrees of bend. He will be on a bike later today. To run down the corridor two weeks after knee replacement is staggeringly good."
​John says how he felt: "I anticipated a slow recovery over some months but after 2 weeks I could walk without aids and in April 2019 travelled to Germany and walked 27,000 steps a day for 2 days around a car show with no problems. As the leg is stronger it is helping the other one so I can do all I could before but for longer."
​At 4 months at a further follow up, John had full extension, full flexion and could jog, run and squat.
​John explains how the rehabilitation was crucial: "Before the opp. it was empathised how important the exercises were and I went to great length to do the exercises regularly as instructed even though it was painful for a while bending the new knee and lifting the leg but as the muscles became stronger I was able to walk up and down stairs as before and now 6 months on the leg is as strong as it has ever has been."
​His advice for patients considering a total knee replacement is: "I would recommend this operation to anyone who has problems with their knee as I did. I can do everything I did before and the knee feels normal. I was very nervous having never had an operation before but the Nuffield Woking hospital were great before and looking after me in the days after the procedure. I cannot recommend the hospital and surgery team enough especially Mr Trikha – an expert amongst experts. Thank you all so much for giving me my life back."
​Mr Trikha concludes: "John's severe arthritis and the condition of his patellofemoral joints meant a knee replacement was the sensible choice to get John back to the active lifestyle he enjoys. I'm so glad he has made an excellent recovery."
July 2019