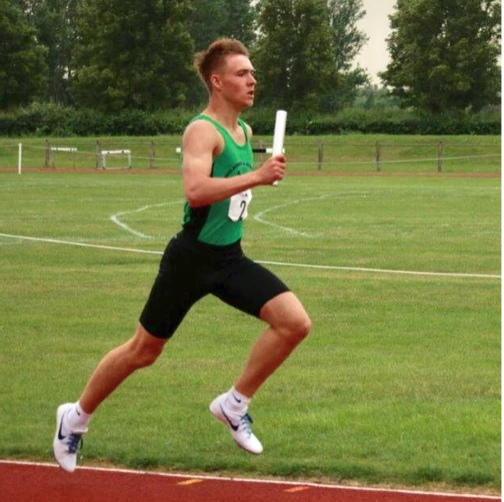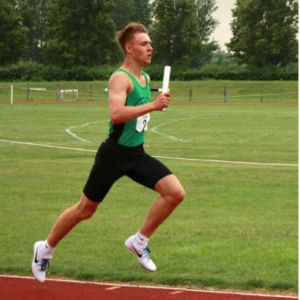 Jonty, 18, university athlete
Young sportsman Jonty avoided the need for an operation after his diagnosis of osteochondritis dissecans and is now back to competing at a high level
Jonty comes from a very sporty family of athletes (Mother competes for Great Britain as a Masters athlete and is current World Champion in 400m / 800m in her age group). Both his parents coach athletics and his sister competes at 400m hurdles, ranked 4th in England in the under 23 age group. So, doing a lot of sport was inevitable for Jonty.
In his early teens, Jonty was a squad gymnast training with Woking Gym Club doing 20 hours per week. He was and still is a keen athlete. He was ranked 12th in the UK for long jump and also was a hurdler for Guildford and Godalming Athletics Club.
However, he and his family now realise his body type was not ideal for gymnastics, being strong but not flexible, so during this time he was suffering with hip, knee and ankle problems from the pressure of the gymnastics training.
While performing in his sport at a high level at the age of 13, he suffered an injury at a regional gymnastics competition in September 2013 after landing after a vault. At this point, his parents sought medical help and went through their GP to get scans to find out what was wrong.
Jonty was diagnosed with osteochondritis dissecans after MRI scans of both knees in December 2013 and he was referred to Mr Trikha in January 2014 for consultation.
Jonty was advised by Mr Trikha to pull back from his sport and to avoid impact in terms of jumps and landings.
It was suggested to Jonty by another orthopaedic consultant that he may have to have an operation because there was an unstable lesion on his right knee. With deterioration of his condition and after several MRI scans, Jonty was advised not to do any sport at all. He was told he would have to prepare to have an operation on his right knee since his cartilage showed signs of instability. This was a worrying time for Jonty and his parents who knew the outcome of intervention was not always certain. Jonty was not doing any sport at this stage which was extremely difficult for an energetic and active child who was used to training every day.
​However, in November 2014, after another consultation and another round of scans, Mr Trikha decided against an operation. He reviewed Jonty's situation and was encouraged to see that the scans revealed improvements in the left knee with a healed fragment. The right knee was also showing signs of healing. Mr Trikha's belief that natural growth would repair Jonty's knees was proving to be the right decision.
​In February 2015 the latest scans were very positive with the left knee showing a completely healed cartilage and the right knee was nearly resolved. Jonty was given a course of physio and he was allowed to gradually return to some sporting activity with care. Three years on and with the help of NHS as well as private physiotherapy, Jonty was able to resume his sporting activities. He did not return to gymnastics but instead he gained a place at St George's College where he took the school record for 100m, 400m and Long Jump and competed for his athletics club Guildford and Godalming 4 x 100m relay team at the London Olympic stadium. He also played rugby for St George's College. Jonty is now 18 years old and has just completed his first year at Birmingham University where he is a member of the Uni athletics team competing at 400m.
​He is back doing lots of sport and loves his athletics and has been able to race for the University Athletics team.
​Jonty says; "Mr Trikha has always been very supportive of my situation over the last 5 years. He recognised my love of sport and I will always be grateful to him for making the decision not to operate on my right knee when he knew that he himself has struggled with similar knee problems when he was younger. He had faith in natural repair and he wanted to avoid me having problems later. So, thank you Mr Trikha for looking after me and I feel happy to I know I can come back to you if I need to!"
Mr Trikha concludes: "I am delighted that Jonty has made such as good recovery and is back to competing at a high level. In cases such as Jonty's I always preferred to see how the body heals on its own, and with the support of physiotherapy."
July 2019