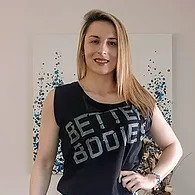 Vanessa, active young gym goer
A rupture to her PCL ligament whilst working out at the gym meant a temporary loss of mobility and independence. Vanessa wanted to get back to full fitness to continue the active life she enjoyed
Vanessa's knee injury happened while she was performing a single-legged leg press at the gym when her knee locked and she couldn't bend her leg. As soon as this happened she tried to stop the exercise, pushing the weight upwards to lock the machine when her knee gave way, hyper extending under 160 kilos.
A visit to Ashford Walk-In Centre and an MRI scan confirmed that Vanessa had seriously injured her knee, in particular her posterior cruciate ligament (PCL), one of the four major ligaments of the knee.
Vanessa was extremely disappointed to hear this diagnosis, she explains: "This injury had a great impact on my mobility. I used to be a very fit person, I love working out in the gym, run, going for walks, drive and being an active person. It was stopping me to be able to do all of it and even to perform my duties at work. I had to rely on my friends, colleagues and partner's help on a daily basis. I lost confidence and self-esteem, seeing the results of consistent years of training and dieting of gaining muscle mass and sculpting my body vanish, especially on my right leg in which I lost all my muscle with the injury, and also the fact of being action restricted made me feel a little depressed because I used to be a very independent person."
Vanessa was referred to Mr Paul Trikha who reviewed Vanessa's MRI scan and confirmed she would need an operation to repair her ligament damage. She explained her desire to recover her ability to move, have her life quality back and return to practicing sports.
Vanessa's operation took place on 30th January, just two weeks after her initial appointment. Mr Trikha carried out a posterior lateral ligament complex (PLC) reconstruction repair, internal brace and reconstruction to her PCL.
Two weeks later, Mr Trikha saw Vanessa in clinic and was pleased with how her knee was healing and recommended a PCL brace and she was referred to Physiotherapist Tom Williams at Active8 Rehab.
A month later and Vanessa had made great progress. She was out of the brace, walking unaided and able to full flex her knee.
6 weeks further on and Vanessa was doing extremely well, back to running and cycling.
In May 2019, Vanessa describes her complete recovery: "I'm able to climb stairs, bend my leg with full movement, train to regain muscle mass in my right leg, walk without any walking aid, drive, resume my duties at work, go out with my friends, be active and autonomous."
She has the following advice for patients with similar problems: "My first advice for patients with similar problems it is in the first place to accept the injury and then work through it. Since the operation day, every day is recovery day! Work on my knee recovery is one of my priorities in my routine. Prioritise rest, pain management and icing at the right times, are additional main variants to imply in the daily routine. "
Vanessa summarises: "My expectations of my treatment have been met and excelled! Mr Trikha sorted everything out in a great timely and professional manner, put me at ease with the complex surgery and gave me the confidence and that once the recovery process would terminate, I could return to the gym without any limitation and lift weights. This injury put me through one of the most difficult times of my life not only physically but also mentally because it barred me to do what all the things that I love doing, and the struggles on a daily basis, therefore, making my life to take a turn of 180 degrees temporarily. Finding remarkable professionals to lead me during the rehabilitation and recovery as well as my everyday dedication to the recovery induced to my successful and fast recovery. Seeing myself improving day-by-day gave me drive and inspiration to believe that, in the future, I would be able to run and also, achieve my level of training like before (executing all the movements with the same weights and volume of training) to accomplish my aesthetic fitness goals."
Mr Trikha adds: "Vanessa has been on a remarkable journey since her unfortunate accident in the gym. Her determination to make a full recovery, supported by her physiotherapist has played an enormous part in getting back to fitness. She deserves a pat on the back for her efforts."
May 2019