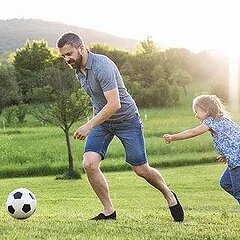 David, geophysicist and active dad
Despite a previous ACL reconstruction, David's knee was unstable and locking, meaning he was unable to enjoy playing with his daughter.
David, a 32 year-old geophysicist, had suffered previous knee problems and had an ACL reconstruction in Cardiff in 2010. He had managed to get back to sports after this operation, but after a few years his knee failed again while playing football. David had constant knee pain and trying to keep up with his young daughter was becoming challenging, with his knee locking.
​He was seeing a physiotherapist for back pain and they explained that his back pain was not being helped by his knee issues and recommended he get a referral to an orthopaedic knee consultant. The physiotherapist had had an ACL reconstruction with Mr Paul Trikha previously, so recommended him to David.
​At their first appointment, it was obvious to Mr Trikha that David's ACL was loose and X-rays and scans confirmed that he had a big meniscal tear and a torn ACL. He also had grade 4 arthritis in his knee. David wanted a solution that would protect his knee as much as possible and solve the instability and locking. His hope was: "To be pain free day to day and be mobile enough to play with my young daughter."
​At the end of April 2019, Mr Trikha carried out a revision ACL reconstruction on David's right knee using hamstring tendons taken from his unaffected left knee, and repaired the damage to his meniscus.
David's recovery has progressed well. After 7 weeks he had a full range of movement back in his knee and after 3 months he had even started running. In David's own words: "So far I am still in physiotherapy and improving week on week but it feels super strong compared to pre-operation and much more stable."
​His advice for patients with similar injuries is: "Don't delay seeing a specialist to talk options through. Mr Trikha was honest and talked me through all my options."
​He summarises his treatment with Mr Trikha: "Mr Trikha was and continues to be clear, thorough and professional throughout the whole process. All my options were clearly presented along with providing advice on what were my best options. I had quite an extensive operation on both legs however my recovery to daily levels of use was swift and now my knee feels much more secure and stable even quite soon after the surgery. I would definitely recommend Mr Trikha to any others in my position."
​Mr Trikha concludes: "I am delighted David has done so well following his revision ACL reconstruction and meniscal repair and glad to see he is back to full activity already. His quality of life should have drastically improved and he should be able to keep up with his young daughter! I wish him continued progress in his recovery."
September 2019